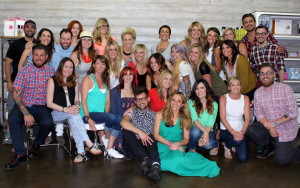 There was a heartwarming occurrence that happened recently at Cortello Salon in Jacksonville Beach. It was just a normal day at the salon until a woman walked in, unsettled, weary, and sobbing. She was facing cancer for the third time and her hair was falling out from the treatment. She had decided that, instead of allowing cancer to slowly take away her femininity, she was going to take as much control as she could. She was going to shave her hair off.
Now, I'm not in the salon business, of course, and I don't know how often this comes up, but it did strike me as a bit insensitive that multiple salons would turn her away or charge $50-$75 to do this. I'm fully aware of the costs of doing business, but at some point, can't we put that aside and just cut someone a break?
Thankfully, the management at Cortello had a heart and ushered the woman back to a semi-private room to perform the emotional task. Laura (not her real name) handed a smartphone to one of the salon staff to record the event. Her plan was to post it to YouTube so others could gain strength from her decision. And maybe, for her it was, in some way, therapeutic? Tears started at the sound of the electric razor (from everyone involved). Laura talked about her past, her family, the treatment, and goals not yet realized. It was an emotional, significant moment for the stylist, the customer, and the impromptu videographer. It was a true life-changing experience for everyone.
Afterward, the bill came to $0 and the stylist refused a tip.
To the staff at Cortello, I thought you handled that very well. It's good to know that your team has a generous spirit and compassion comes free in your salon. Your small act of kindness will surely inspire others to do the same.
Until next time,
Brian Barquilla